Monte Vardia: Introduction
This is a really interesting spot! I've been for the first time just a few months ago and been really impressed. It's just a breath from the city centre with superb view to the city of Chania and the harbour. The climbing area consists of a face around 100 meters wide and up to 12 high. It's well bolted and you wont face any run out here. You can climb all year long in Monte Vardia except the very hot summer days and between 13:00 to 17:00 o'clock. Having said that, if you are from northern Europe and you really like sun you can give a try

.

Agiofarago: Introduction

The southernmost climbing area in Crete is Agiofarago. The area's characteristic is the rock, which is very sharp, along with the combination of climbing, swimming and walking. Most of the routes are inside the gorge with the oldest ones situated on the beach or near the beach. Here you will find some of the most difficult routes in Crete, up to 8b+, from single to multiple pitches. There are just a few lower than 5c where most of them are around 6c/7a. Almost 90% of the climbing routes are equipped and you will only need quickdraws and 60-70 meters of single rope to repeat them. Having said that, there are also many where natural anchors must be used. Those are usually the first routes in the area opened in late 80s. The place is marvellous and you will enjoy climbing and swimming in one of the most beautiful places not only in Crete but also in Greece!

Introduction
Malia is surrounded by olive groves and the slopes of mount Selena. Malia is best known for its lively atmosphere; however Malia is not only for young people, it has a lot to offer everyone (almost) especially if you visit the old city and a few km before the traditional village of Koutouloufari, you wont regret it. The beach is the one of the best in Crete, three miles of fine, golden sand, which gradually slopes into the warm, clear blue sea. Just a few km away there is a climbing spot too :)

An overview of climbing in Dikti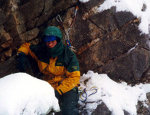 In Dikti you will find the best climbing spot for climbers who are looking for to try traditional climbing routes without dealing with high grades of difficulty. The most difficult rock climbing route is around 6a+ and there are plenty near to 5a/5b+. Having said that, the long routes, the loose rock in places and the long (in some routes) access, contributes to an absolute adventure.
During winter, things are more complicated. Rock, frozen snow and rarely ice, lead to the ultimate escape from the daily routin. Be aware that winter climbing in Dikti's gullies are quiet difficult and is not recommended for newbies.

Plakias: Introduction
This is a huge slab! Some really hard routes are here. The main cliff of Plakias is just a few meters away from the beach (superb for swimming) with excellent quality of rock and up to 80 meters high. Some bolts need to be replaced but most of them are ok to climb. It faces north west and is possible to climb almost all day even during the summer. There is a camping to stay and plenty of hotels in the area. to reach the clmbing routes all you need is a 2 minutes walk. There are some fantastic routes in this area.

Agia Paraskeui Cave: Introduction
This is one of the three largest caves in the prefecture of Heraklion.It's just a few minutes driving from the village of Skotino and is at a height of 225 meters above sea-level. Many dyno's here! There is one route at 5b, one at 5c and 3 between 6a+ and 6c. Rest are really hard, up to 8b+, maybe more. It's a lovely place to climb during the summer as it's always in the shadow.

Kleissoura gorge: Introduction
In this area newbies can't do a lot unless you can climb easily 6c. There are 5 routes under 6a and around 20 between 6b to 7b+. The place is too warm to climb during the summer but ideal during the winter. The area is located before reaching the village of Tries Ekklisies and you'll see it on the left as you going down. All you need is 2-3 minutes walking to get to the starting point.

Therissos Introduction
The 14 km drive up the gorge is considered spectacular and is popular with Chania residents for the cooler temperatures and grill restaurants of the village. Apart from this there is also interesting for rock climbing

. Here there are many routes for all tastes. Along the road to the village of Therissos you will see all the routes that vary from V up to X- (UIAA) and almost all of them are protected with bolts. In some of them you may need nuts, friends and some slings. You will certainly enjoy your climbing here as long as you climb easily 6a/6b as most of the routes are close to that level. The easiest climbing area is the one with graffiti ''ΛΟΚ'', the initials of the Greek Special forces who use this area for rock climbing training. You will get a detailed view of the climbing sectors by choosing any of them from the top menu. In the mean while let's get you informed about some other important aspects of the area! This climbing area is the most important for local climbers as in just a few minutes from Chania you can get there and start climbing a large number of routes.
Plakias: Sector 1
Area Info
The left part of this sector includes some easy routes. This is a very impressive face with wonderful view to the sea.
Plakias: Sector 2
Area Info
If you fancy 8a this is your spot :)
Plakias: Sector 3
Area Info
If youhave on sight 6b then this routes wont let you down.
Plakias: Sector 4
Area Info
Dont forget to try the Fodele route, a superb two pitches route.
Plakias: Sector 5
Area Info
Another sector of really hard routes.
[1]
Items 1 - 5 of 5 displayed.