An overview of climbing in Dikti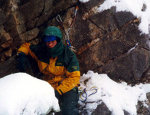 In Dikti you will find the best climbing spot for climbers who are looking for to try traditional climbing routes without dealing with high grades of difficulty. The most difficult rock climbing route is around 6a+ and there are plenty near to 5a/5b+. Having said that, the long routes, the loose rock in places and the long (in some routes) access, contributes to an absolute adventure.
During winter, things are more complicated. Rock, frozen snow and rarely ice, lead to the ultimate escape from the daily routin. Be aware that winter climbing in Dikti's gullies are quiet difficult and is not recommended for newbies.