Web site upgrade
Dear climbers,
Due to lack of time I wasn't able to update the web site the last few years and hundreads of new routes are not on the web site but you ca get a short idea about some climbing spots.
There is also a know issue with the forum which doesn't work properly. I need to re-write part of the code which I hope to finish by the end of October 2017.
Enjoy climbing.

An overview of climbing in Dikti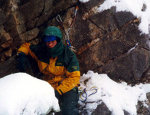 In Dikti you will find the best climbing spot for climbers who are looking for to try traditional climbing routes without dealing with high grades of difficulty. The most difficult rock climbing route is around 6a+ and there are plenty near to 5a/5b+. Having said that, the long routes, the loose rock in places and the long (in some routes) access, contributes to an absolute adventure.
During winter, things are more complicated. Rock, frozen snow and rarely ice, lead to the ultimate escape from the daily routin. Be aware that winter climbing in Dikti's gullies are quiet difficult and is not recommended for newbies.